Org Capturing Introduction
The org-capture function is quite useful for some workflows, however, the standard documentation for it quickly jumps into template writing without really explaining its use case. The following essay attempts to be a gentle introduction to org-capture. I will assume you are familiar with both Org and Emacs, but don't know anything about org-capture.
The org-capture feature is global, meaning that it may be called anywhere in Emacs– whether you are editing an org file or reading email. Calling it displays a buffer, allowing you to jot some notes. When dismissed, the notes are saved in a specific location based on the type of note. Hrm…examples are in order:
Wile reading my mail, I remember some items to buy at the store, I start org-capture (specifying a task) and store a TODO header entitled Shopping with a list in my task file.
While reading some code, I notice one of my team members clarified the originally terse README with helpful examples. To remind myself to publicly thank her at the next Sprint Retrospective, I launch org-capture (specifying a "Sprint Goodness"), and jot down the note, knowing that at the Sprint Retro, I can retrieve the file containing my Sprint notes.
While running eshell on a remote server, I notice our Rakefile has a spelling mistake. Since I should fix that (just not now), I quickly start org-capture (specifying a "Bug"), and jot the details for a bug fix at the end of the day.
While analyzing a new code base, I select each interesting function, and call org-capture to copy it (maybe with some thoughts) to n "Project File". Each code snippet is properly formatted (in a literate programming style) with a link back to the original code file. By the time, I have encountered something questionable, I can export my "Project File" and mail it to collegues with questions.
The list of these destinations, and types of notes, can be a long as you want. Here is a screenshot of Emacs running on my work computer where each type of note (with its destination) is associated with a single key: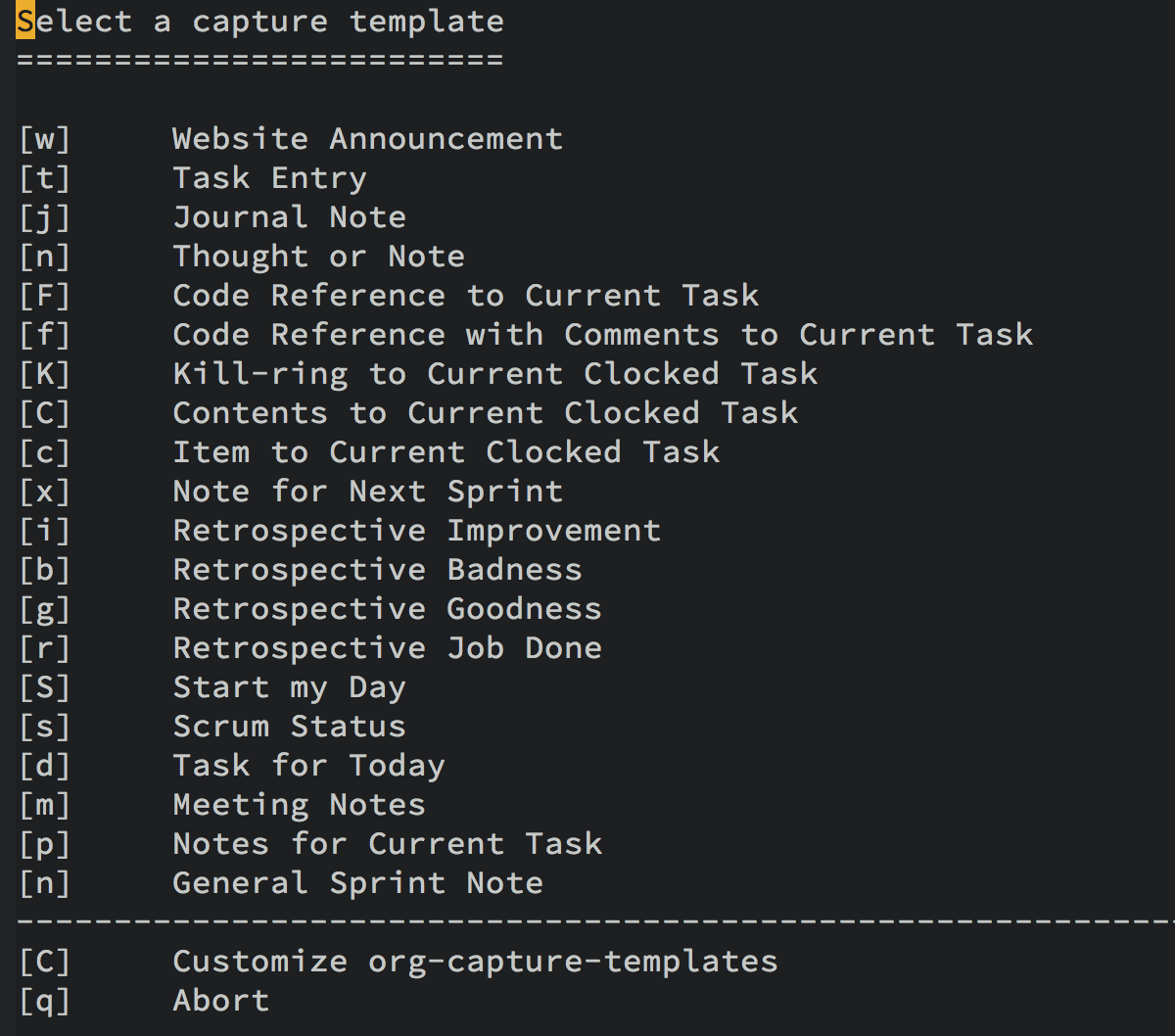 Hopefully, this gives you some possibilities for how org-capture can be used.