Creating Interactive Fiction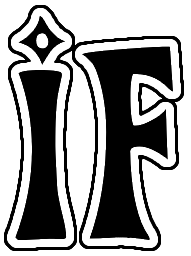 What's Interactive Fiction?
Interactive Fiction (IF) is a better, computerized version of a "Choose Your Own Adventure" story. The best way to understand what it is, is to play one, like this game: http://is.gd/ifexample
What's Good about Interactive Fiction?
While we have written many different IF programs, they all do only one thing…create IF games, and you can't do much else with them.
That said, if you like telling stories and creative writing, then you may have a great time making these stories with multiple endings and plot branches.
How to Learn Interactive Fiction?
Use a browser (like Safari, Firefox or Chrome) to connect to InkleWriter at http://www.inklestudios.com/inklewriter/
Then click the Start Writing button.
Then click the get started button.
This will being the tutorial, if you click the Click here to continue link.
How to Use Interactive Fiction at Home?
Stories you create with InkleWriter can be saved and then shared with your friends. You don't need to install anything at home to use it.